Install¶
Ubuntu Server 18.04, 20.04¶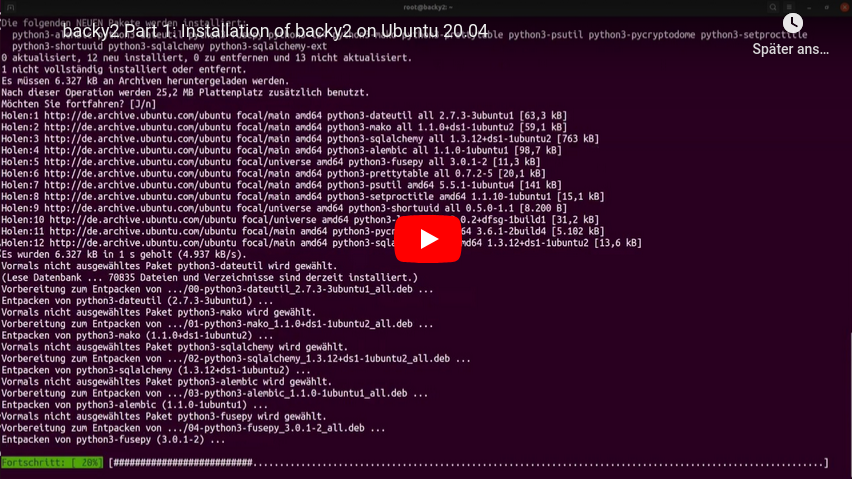 backy2¶
backy2 has a .deb file that you can download and install:
wget <somewhere>/backy2_<version>.deb
dpkg -i backy2_<version>.deb

This will complain about unfulfilled dependencies. Let's install them:
As ubuntu 20.04 does not have the correct / latest versions for backy2 to run (as we depend on the latest tech), let's install them with the python package manager:
apt install python3-pip
pip3 install pycryptodome zstandard

Now, edit backy2 and replace the encryption_key by something created by
…and set encryption_version to 1.
If you want to use s3, you will need either the boto3 or minio library. minio is faster in our tests but not compatible with very old s3 versions:
apt install python3-boto3
pip3 install minio

postgresql¶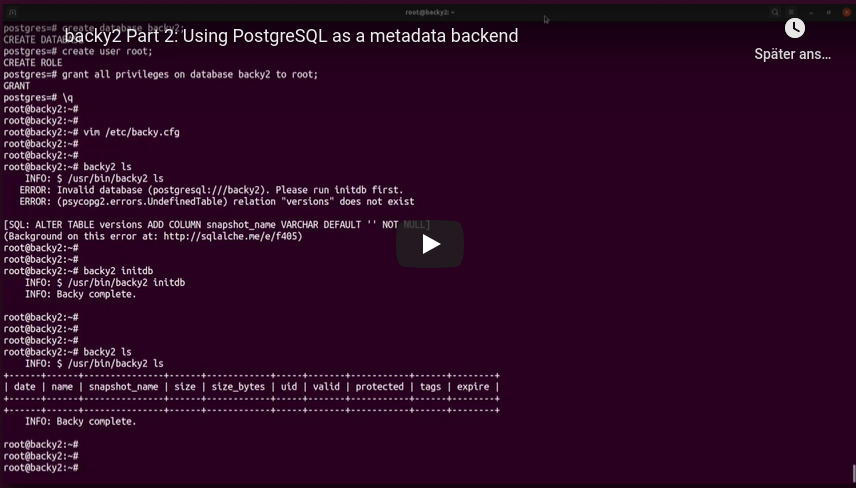 As postgresql is the recommended dbms for backy2, let's install and configure it:
apt install postgresql python3-psycopg2
sudo -u postgres psql

$ psql 

(

12

.2 

(

Ubuntu 

12

.2-4

))


$ Type 

"help"

 

for

 help.

$ 

postgres

=

# create database backy2;


$ CREATE DATABASE
$ 

postgres

=

# create user root;


$ CREATE ROLE
$ 

postgres

=

# grant all privileges on database backy2 to root;


$ GRANT
$ 

postgres

=

# \q



Configure postgresql in backy2. For this edit /etc/backy.cfg and change the meta backend in the section backy2.meta_backends.sql from the line engine: sqlite:////var/lib/backy2/backy.sqlite to:
engine: postgresql:///backy2

Note
Of course you may also use a network-reachable postgresql server with username/password credentials and so on. Just use another connection string as provided as an example in the backy.cfg file.
sqlite¶
Nothing to be done here, however please only use sqlite for testing.
Initialization¶
Initialize the database:
This should succeed.